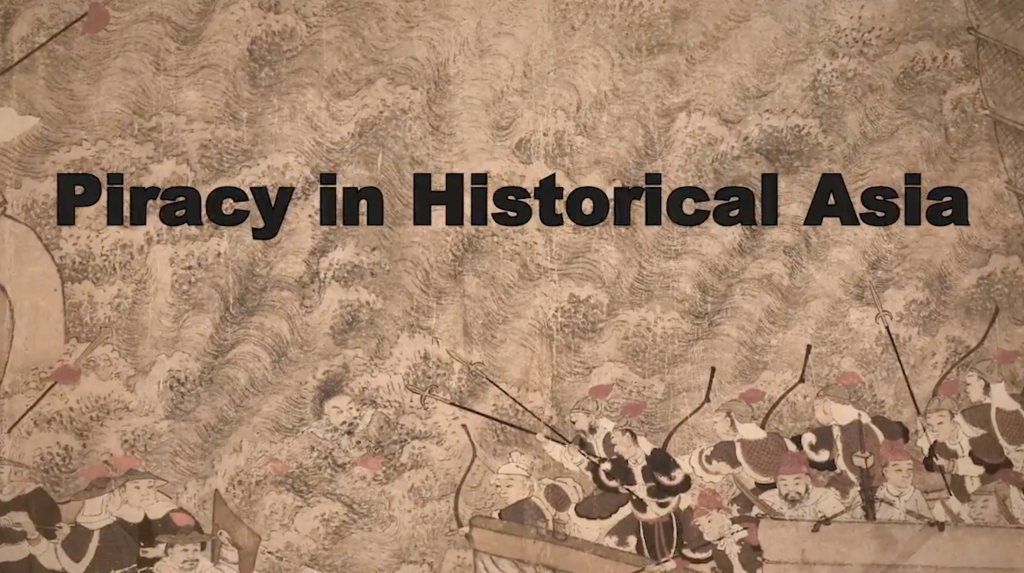 Video documentation "Piracy in Historical Asia"
Video Documentation: Piracy in Historical Asia
Piracy in Historical Asia
Wakō zukan 倭寇图卷 (Scroll showing Wakō pirates in action), late Ming 明 dynasty (1368–1644), an illustrated map showing attacking Wakō pirates and Chinese defence measures. Courtesy of the Historiographical Institute (Shiryō hensanjo 史料編纂所), University of Tōkyō.
Video documentation
Piracy in Historical Asia
Piracy is an inexhaustible topic. It constitutes one of the many problems that exist worldwide and troubled people in the past as it does today. In the West, piracy is mostly linked with such famous names like William Kidd (Scottish, 1645–1701), Edward Teach "Blackbeard" (English, 1680–1718), Bartholomew Roberts "Black Bart" (Welsh, 1682–1722), Sir Henry Morgan (Welsh, 1635–1688) or Sir Francis Drake (English, 1540–1595), to name just a few. And people tend to think of the Caribbean or perhaps of Madagascar in early modern times as areas where pirates were most active. Actually, however, the largest number of pirates and the highest total of incidents of piracy both in past and present took and takes place in Asian waters.
In this video documentation we introduce various examples of piracy in historical Asia. We talk about specific characteristics of piracy in Asia and discuss who actually was defined as a pirate. We expound the reasons of piracy, counter and protection measures of local governments, and introduce the waters in which the pirates were active. You will see some historical fortifications, maps, and ships. We also include an interview of a German ship captain who was once attacked by pirates in the Malacca Straits and kindly shared his experience with us. This may show how actual this historical topic still is.
This video documentation was produced in cooperation with the Indian Ocean World Centre (IOWC), McGill University, as contribution of Team 3 to the MCRI (Major Collaborative Research Initiative) project "The Indian Ocean World: The Making of the First Global Economy in the Context of Human-Environment Interaction", supervised by Prof. Dr. Gwyn Campbell and sponsored by the Social Sciences and Humanities Research Council of Canada (SSHRC). It also contributes to the partnership project "Appraising Risks, Past and Present: Interrogating Historical Data to Enhance Understanding of Environmental Crisis in the Indian Ocean World", also supervised by Prof. Dr. Gwyn Campbell and sponsored by SSHRC.
The video is also part of Angela Schottenhammer's research project "Seafaring, Trade, and Knowledge Transfer", kindly sponsored by the Gerda Henkel Foundation and the University of Salzburg, and it contributes to Angela Schottenhammer's ERC AdG TRANSPACIFIC, see https://crossroads-research.net/projects/erc-adg-transpacific/.
Short preview – thumbnail sketch:
https://unitv.org/beitrag.asp?Kat=2&sort=InhaltDatum-DESC&ID=1115&Preview=show1182093125
Full video documentation "Piracy in Historical Asia" (54:50)
– providing an introduction into manifold aspects and characteristics of piracy in early modern Asia.